Magnetic Door Kick Plate Faux Metal Colors multiple sizes Interchangeable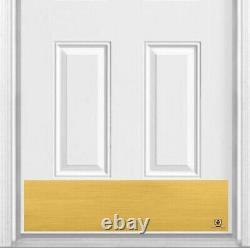 Our NON-METAL rubber kick plates can be rolled up for easy storage and. With our other holiday theme magnetic kick plates. Our magnetic door sign kickplates for exterior steel doors not only protect the lower portion of your door from damage, but also adds a beautiful bit of charm to your home's. DURABLE & DECORATIVE A magnetic door sign kick plate is the perfect decorative accent piece for your home's exterior because it's durable, functional, it protects your door and looks attractive!
INTERCHANGEABLE Our magnetic door sign kickplates can be changed out to fit any holiday or season decor! Made in the USA and created from durable materials, our door sign kick plates are UV resistant, making them the ideal kick plate for use on commercial and residential doors. WORRY FREE INSTALLATION Magnetic plates are easily installed, non-permanent, will not damage your door and can be changed out with multiple design options. Weather shielding in all elements. Scuff defense for residential and commercial spaces.
Make your house your home. Enhance the Look of Your Entry Way. Create a Unique Style That Lasts. Stand Out From the Rest. NEW INVENTION >>>INTRODUCING>>> The Magnetic Mounting Plate. Marvelous Magnetic Door Kick Plates. Now you can protect your door and express yourself at the same time, regardless of what type of door you have! No More Hardware Color-Finish Decisions to make just get what you like! No More Drilling Holes for Installation (easiest guaranteed installation). No More out dated style to redo (just swap your magnetic kick plate to change styles). No More costly permanent and damaging door hardware (Just stick them on and leave them forever, or swap them out as often as you want). No More intimidating contractor engineering lingo (simple installation, simple instruction, simple sizing). EXCLUSIVELY available in our Amazon Store.
Discounted Bundles are in our store as well. Just search for "Steel Magnetic Mounting Door Kick Plate - for Mounting Magnetic Kick Plates to All Doors" in your Amazon Search Bar. Don't have a Steel Door?
Not sure if you have a steel door? Test it out with a refrigerator magnet - if it doesn't stick, it isn't steel! Brand: Deck the Door Decor - Find us on Facebook, Instagram, or on our website. Installation tutorial available at our website or on YouTube. Thank you for supporting a local USA company!
Designer Door Kick Plate for Exterior Steel Door.